Pick-Up
Si no deseas hacer fila, esta opción es para ti. Llama, ordena, paga por ATH Móvil y recoge en la tienda. Antes de llamar, mira nuestro menú para que puedas ayudarnos con el tiempo de espera. ¡Tenemos muchas opciones! El empleado te indicará dentro de cuánto tiempo estará tu orden lista para ser recogida.
If you do not want to line up, this option is for you. Call, order, pay for ATH Móvil and pick up at the store. Before you call, check out our menu so you can help us with your wait time. We have many options! The employee will tell you how long your order will be ready to be picked up.
Menú
Ayúdanos a minimizar el tiempo de espera en la fila seleccionando los productos que deseas de nuestro Menú. ¡Te esperamos!
Help us minimize the waiting time in line by selecting the products you want from our Menu. We will wait for you!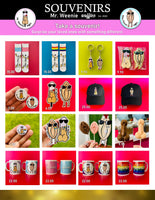 Branding
Recuerda llevarte un recuerdo y llevarle a tus amigos y/o familiares.
Remember to take a souvenir with you and bring it to your friends and/or family.
Popsicles
¡Ahora también tenemos las famosas paletas de hielo en forma de Mr. Weenie!
Now we also have the famous ice pops in the shape of Mr. Weenie!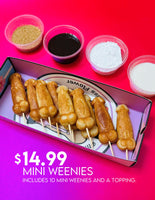 Mini Weenies
Para vacilar entre amig@s tenemos los mini weenies, que seguro te recordarán alguna experiencia mini… 😂
To hesitate between friends we have the mini weenies, which will surely remind you of some mini experience… 😂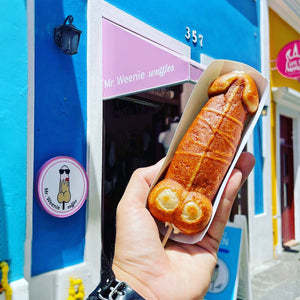 Nuestro Horario
Visítanos en Viejo San Juan de lunes a jueves 12:00-9:00pm y viernes a domingo 12:00-12:00am ¡Te esperamos! 
Visit us in Old San Juan from Monday to Thursday 12:00-9:00pm and Friday to Sunday 12:00-12:00am We are waiting for you!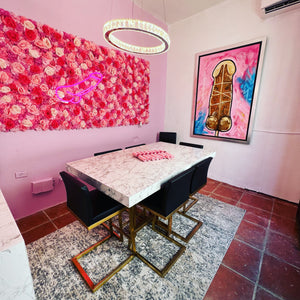 VIP ZONE
Ahora podrás disfrutar con hasta 10 personas en el VIP ZONE de Mr. Weenie Waffles. No necesitarás hacer fila al llegar y recibirás un trato personalizado. Costo: $3 por persona. Puedes reservar tu espacio llegando directamente a la tienda o llamando por teléfono al 939-261-5232
Now you can enjoy with up to 10 people in the Mr. Weenie Waffles VIP ZONE. You will not need to queue when you arrive and you will receive a personalized treatment. Cost: $3 per person. You can reserve your space by coming directly to the store or by calling 939-261-5232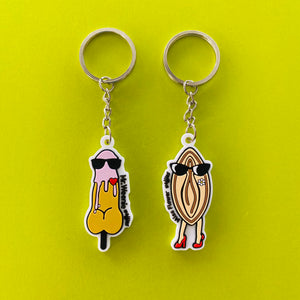 Llaveros Mr. Weenie & Miss Flower
Llaveros en goma de nuestros personajes a tan solo $9.90
Rubber keychains of our characters for only $9.90
Mr. Weenie & Miss Flower Hats
También tenemos las gorras con el logo de Mr. Weenie y Miss Flower, perfectas para regalar a un amigo(a) y sorprenderle. A tan solo $25.00
We also have caps with the Mr. Weenie and Miss Flower logo, perfect to give to a friend and surprise them. Just $25.00
Colección de tazas
Llévate nuestra colección de tazas por tan solo $22.00 cada una. Tienen el logo por la parte de alfrente y la palabra golos@ detrás.
Get our collection of mugs for only $22.00 each. They have the logo on the front and the word golos@ on the back.
Weenies Lollipops
Tenemos las paletas en forma de genital masculino para la venta a tan solo $9.90 c/u. 
We have male genital lollipops for sale for only $9.90 each.
Flower Vulva Lollipop
También tenemos las paletas en forma de Flower en Chocolate Regular y Chocolate Blanco a tan solo $9.90
We also have the Flower shaped lollipops in Regular Chocolate and White Chocolate for only $9.90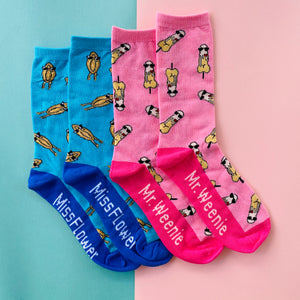 Mr. Weenie & Miss Flower Socks
Llévate un par de medias de Mr. Weenie o Miss Flower por tan solo $15.00 dólares cada par.
Pick up a pair of Mr. Weenie or Miss Flower stockings for just $15.00 each.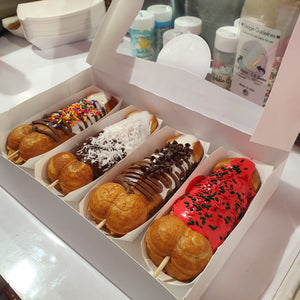 Nuestros BOXs
También podrás llevarte alguno de nuestros BOXs para llevar. Tenemos el 2BOX, 4BOX y el 8BOX. Estos incluyen la cantidad de waffles a escoger entre Weenies o Flowers con dos glazes y toopings cada uno. 
You can also take one of our BOXes to go. We have the 2BOX, 4BOX and the 8BOX. These include the number of waffles to choose between Weenies or Flowers with two glazes and toopings each.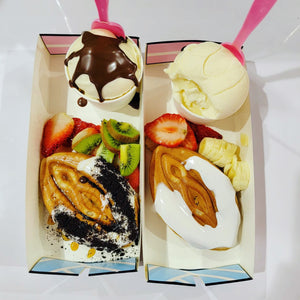 Miss Flower Waffles
También tenemos disponible a Miss Flower, una vulvi flower que satisfará a muchos golosos. 
We also have Miss Flower available, a vulvi flower that will satisfy many a sweet tooth.
Letras golos@
Hazte también la fotos en nuestras famosas letras golos@ y etiquetanos con el @mrweeniewaffles. 
Also take photos of yourself in our famous letters golos@ and tag us with @mrweeniewaffles.
Ubicación
Busca nuestra ubicación en Google Maps al escribir Mr. Weenie Waffles. Estacionamientos más cercanos: Estacionamiento Covadonga y Doña Fela.
Find our location on Google Maps by typing Mr. Weenie Waffles. Closest parking lots: Covadonga and Doña Fela Parking.
Location
Mr. Weenie Waffles
Horario
Lunes a Jueves 12:00pm - 9:00pm
Viernes a Domingo 12:00pm - 12:00am
Hours
Monday to Thursday 12:00 p.m. - 9:00 p.m.
Friday to Sunday 12:00 p.m. - 12:00 a.m.